DECKER JR. CH TOPWATER HIDDENSPRING YULETIDE MH. CHAMPION / MASTER HUNTER #56
"DECKER" OUT OF OUR GIRL "BONNI MH" BECAME ONLY THE 56TH AKC CHAMPION / MASTER HUNTER IN BREED HISTORY. J. COLLIER OWNER.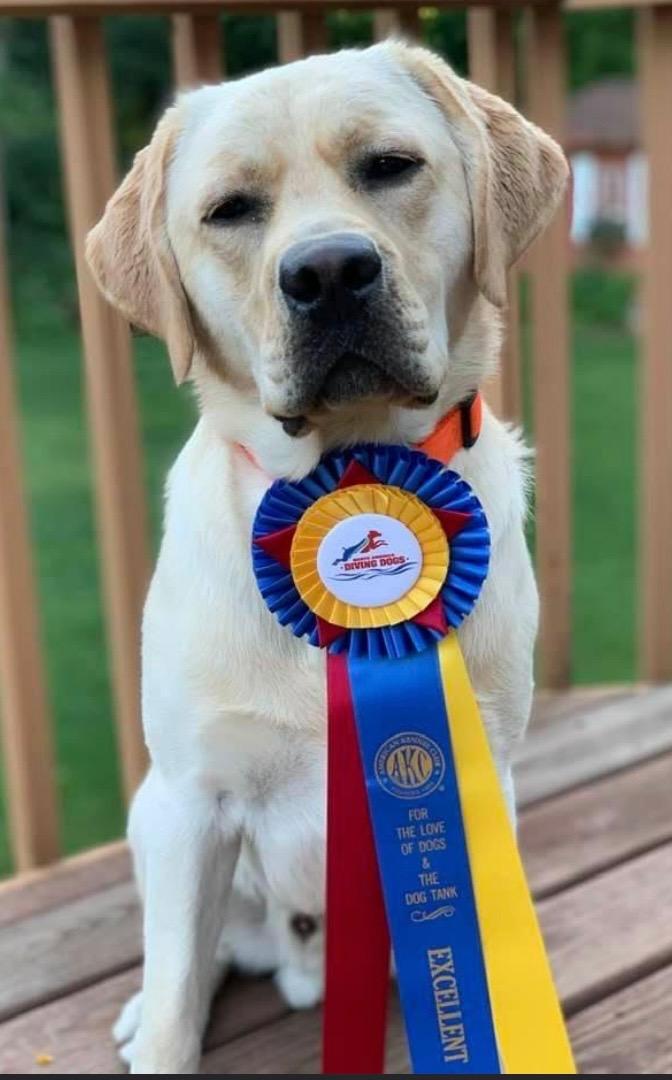 A REP BOY
GLEN WITH HIS REP CAPER PUP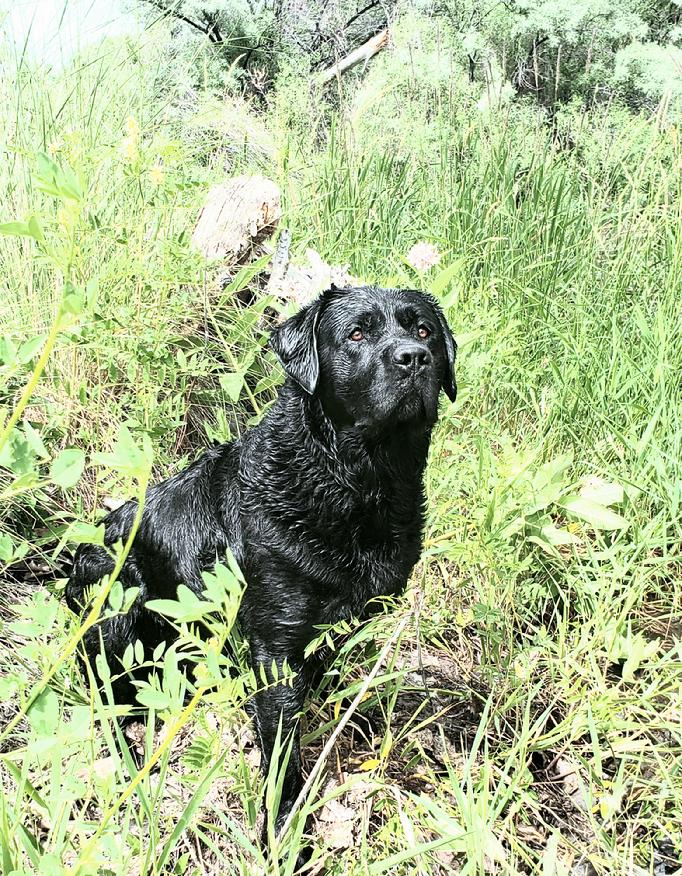 TUT AKC SENIOR HUNTER NOVA son
Dear Edna, it is hard to think that eight seasons have now come and gone since we picked up that yellow fluffy boy. Sonny eclipsed 3000 retrieves this season. In all of the years that I have been hunting I have never hunted with a greater dog than my GMHR Hidden Springs Sundance on the Water MH. Sonny Boy is beyond a retriever. He goes with me everywhere everyday. We are both getting a little more tired and grayer. He doesn't run as fast as he used too but he is a machine at picking up birds, scenting and trailing out cripples. His style is nothing but perfection. The comments that he receives makes me very proud of him. He has hunted all across the country and we will be going to Canada next early season. Thank you for so masterfully putting the best dogs on the planet. Your friends, Michel and Sonny Elmer.
Burchtold Goose/Susie puppy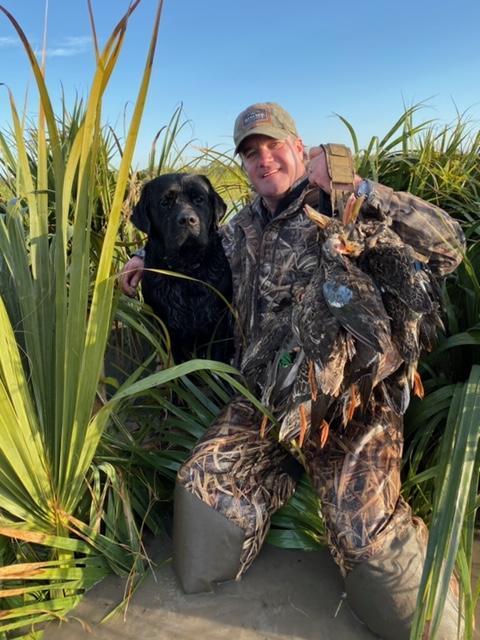 REP AKC CHAMPION MASTER HUNTER #81
MARSHALL'S REP X FLIRT PU[P "SUMMIT" 11 MONTHS
Hi Edna,
It's Cindy and Derek Marshall. We thought you might like to see what a handsome boy the puppy we got from you has turned out to be. His name is Summit and he came from the Flirt and Rep litter and my son and I picked him up on March 5th, 2019.
My husband, Derek, has done a lot of duck hunting with him this season in Northern California, and he is an excellent retriever! He also has a wonderful disposition and we are all head over heals in love with him!
Just wanted to share. : )
what a wonderful family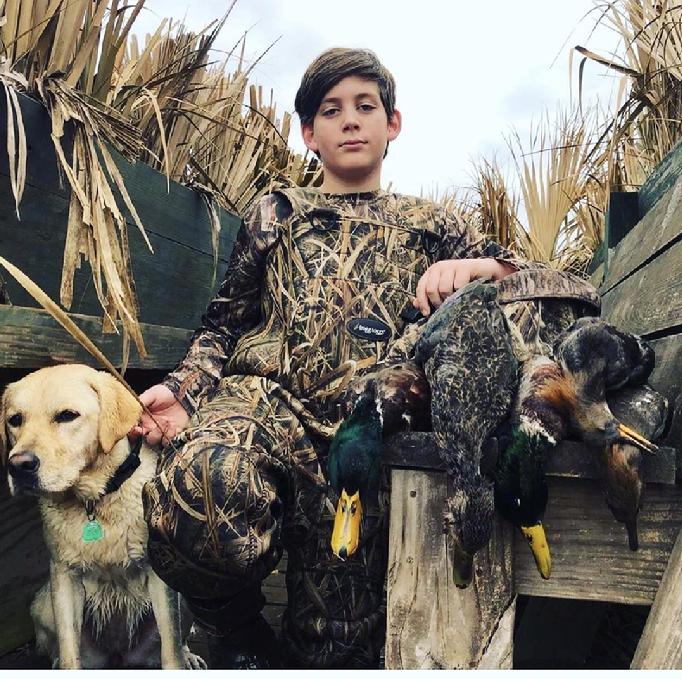 ABBY, owned by the Dupps family, Charleston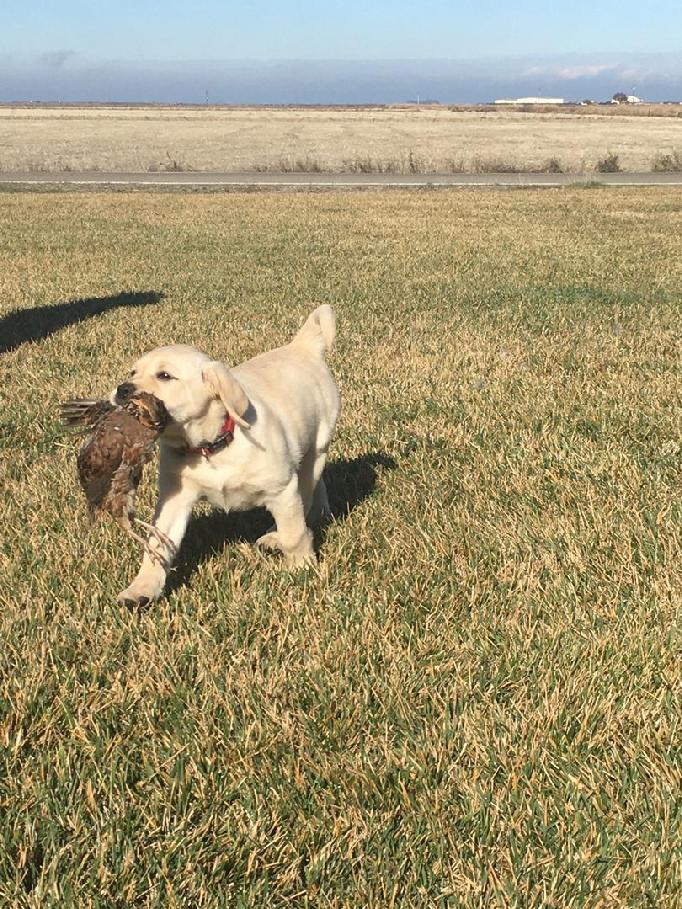 THE AKINS: FLIRT REP PUPPY, 10 WEEKS OLD
THE MARTINS GIRL "KONA"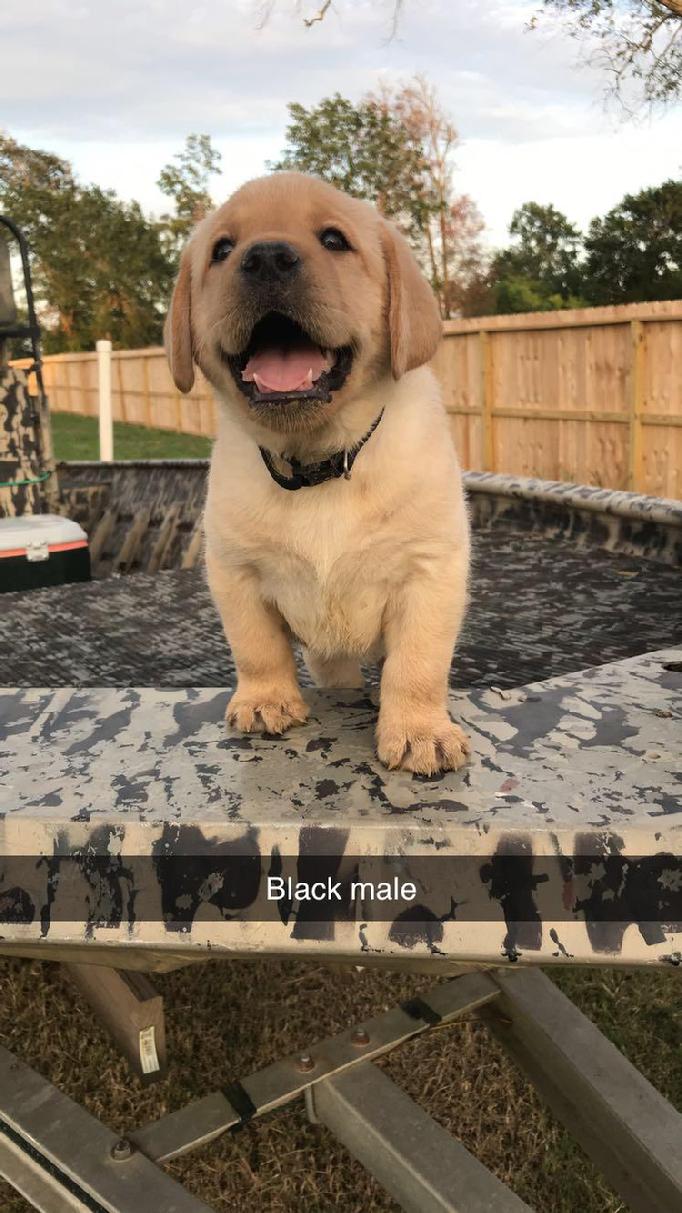 ALDERSON'S GIRL BLACK COLLAR
"GOSH, WE LOVE OUR PUP"SAGE OWNED BY THE DEAL FAMILY
REP PUP
Steve and Blue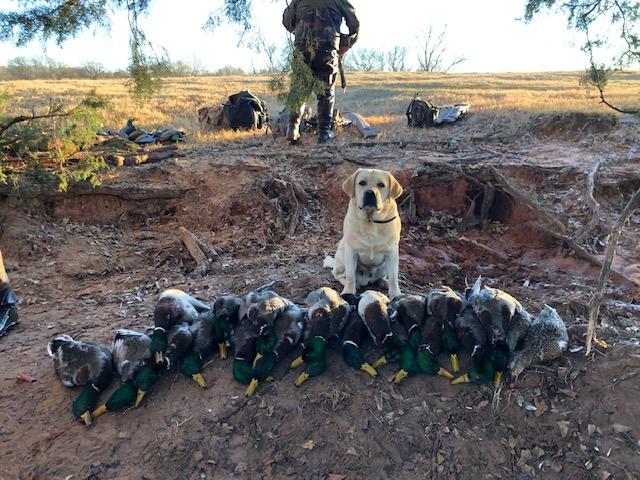 RUMBLE SH IS NOW WITH A WONDERFUL FAMILY IN TEXAS
GOOSE GRANDDAUGHTER OWNED BY STUART JONES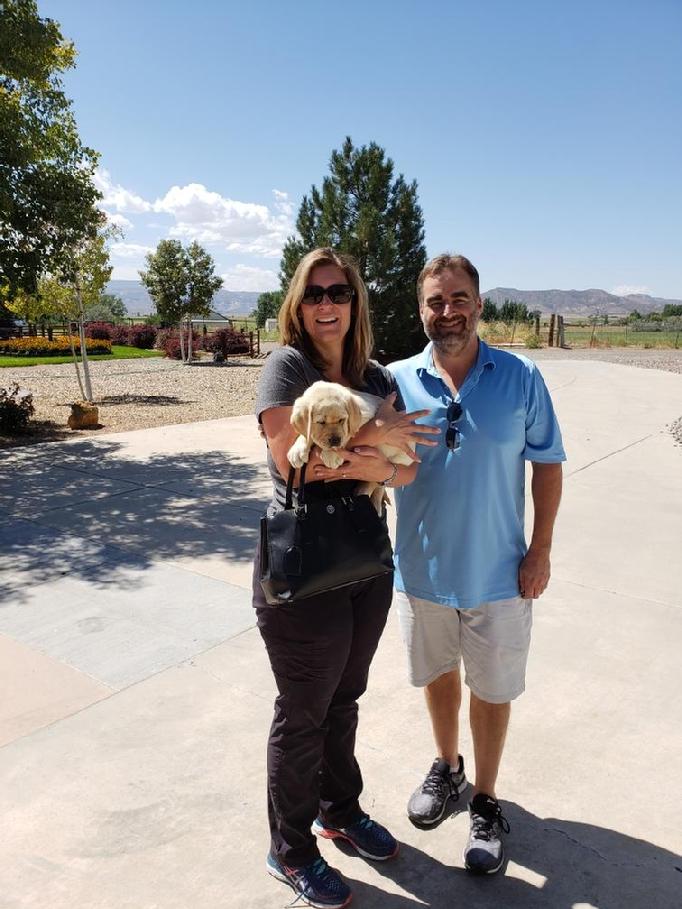 I'm going to be an Encinatis, ca beach boy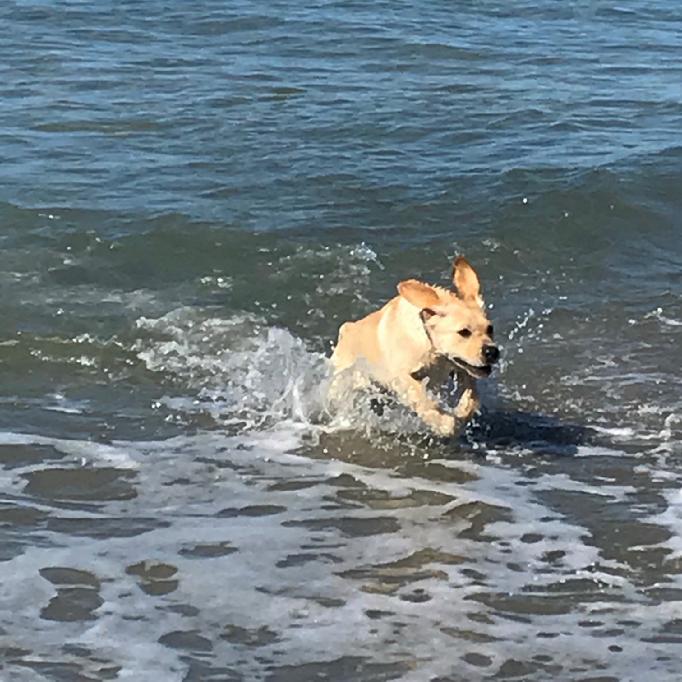 NOW HE IS AT THE BEACH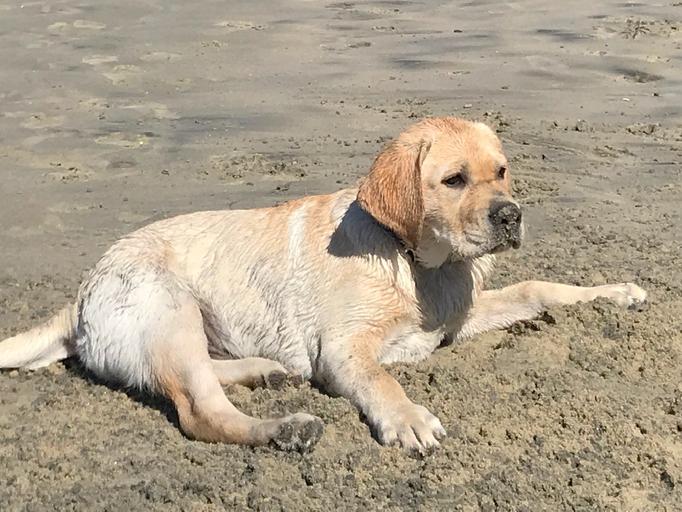 STILL AT THE BEACH
FLIRT X REP BOY AT 7 WEEKS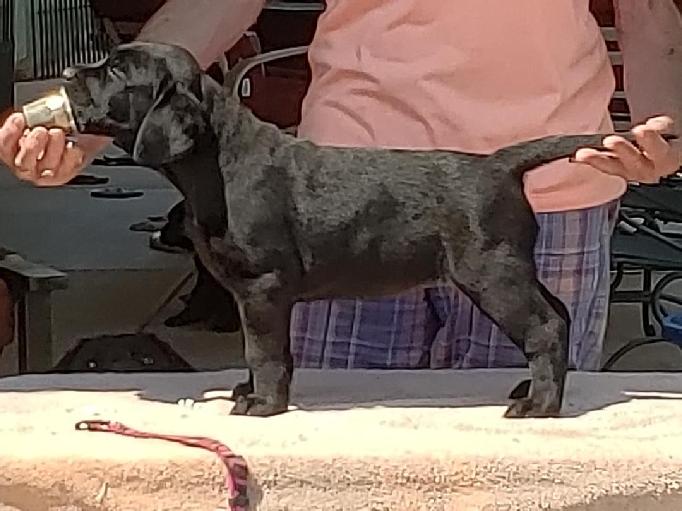 FLIRT X REP GIRL AT 7 WEEKS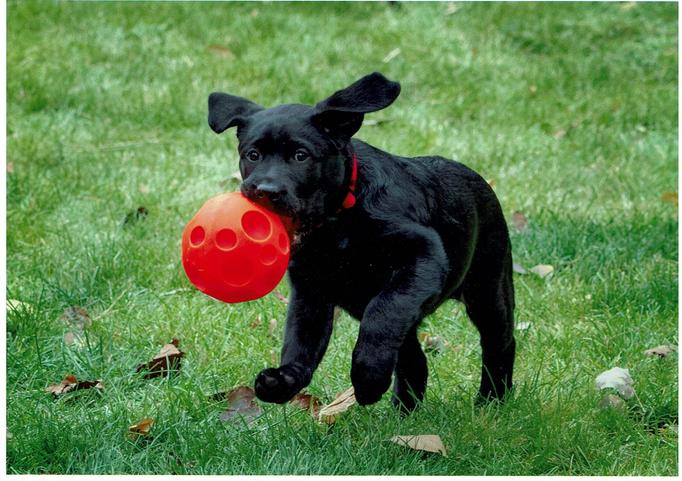 SAMANTHA OWNED BY CHAD IN COLORADO
working with an Hidden Springs boy
My Star is a black female out of your Covey, born 12/19/16. Just wanted to let you know that she has developed into a fantastic upland bird hunter. Strong drive, easily controllable, great nose, and perfect retrieves to hand. A delight to hunt with and already, at 10 months, as good or better than my two previous Labs. I couldn't be more pleased.
Stu McFarland
Parker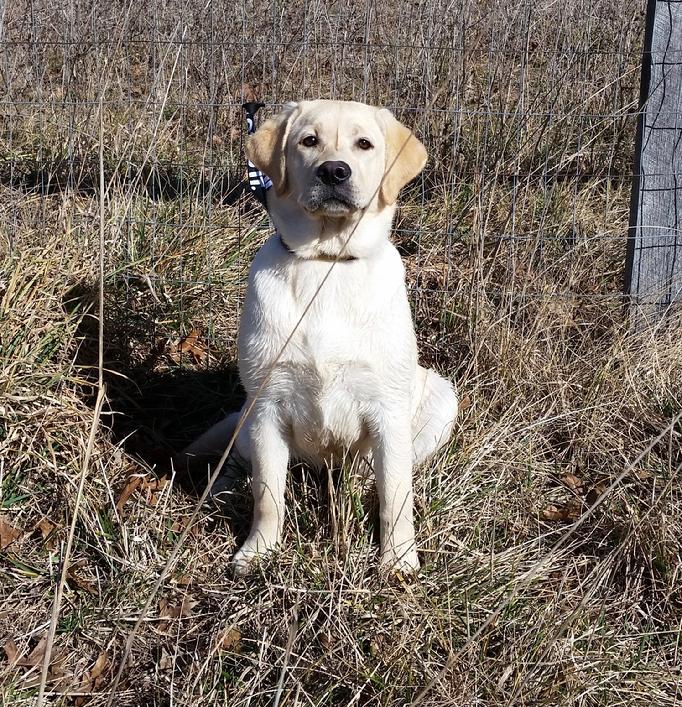 NOVA PUP SISTER TO RUMBLE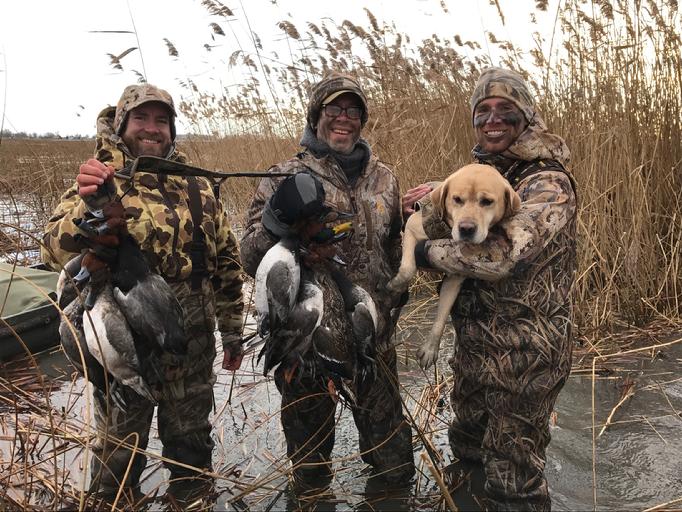 Tugboat and hunting partners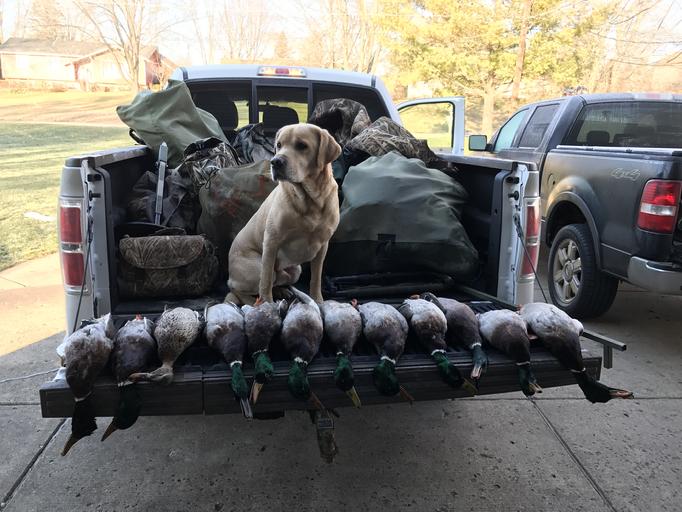 Tugboat a Daisy pup12-17
OWNED BY THE WOOTENS OF SOUTH CAROLINA WITH HIS RETRIVES.
THE VIDEO ABOVE IS OF "TUT" ON HIS FIRST GOOSE RETRIEVE. HE IS OUT OF OUR MH LUNA AND BY CH MH DECKER. OWNED BY KEN JONES.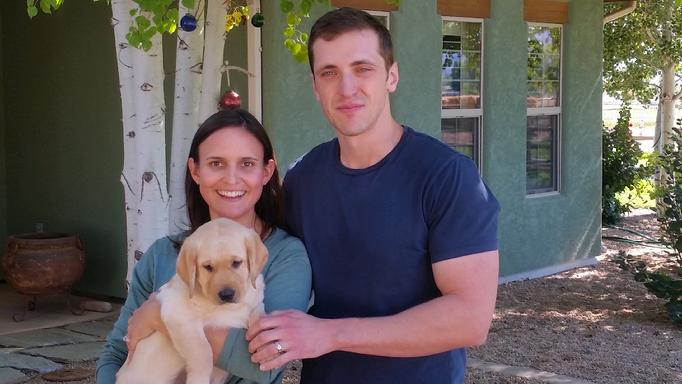 NEW PUPPY OWNERS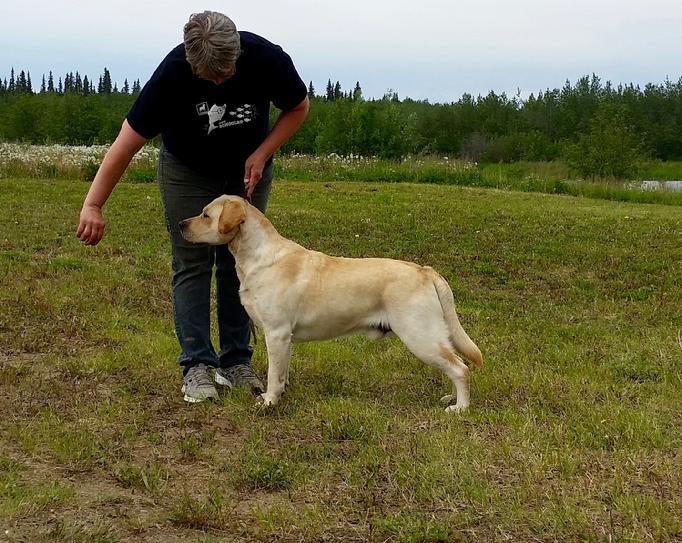 NOVA PUP, HAMMER AT 16 MO OWNED BY THE COOPERS OF ALASKA
STIRLING, A NOVA PUP 4-16
All is well here! I'm sorry we missed you over the weekend, but Stirling has been an absolute gem since we collected him on Saturday. He slept in the car on the ride home like a champ, has not yet had an accident in his crate, sits very nicely when I put his food down for him, and LOVES LOVES LOVES to play! He's just the best! Bonus- he sleeps through the night! I don't because i'm up every hour making sure he is still ok, haha but that's a mother's job!
He took right to his crate, and while he loves the toys we have for him, he seems to prefer sticks, grass, and pinecones to his stuffed animals/rope toys/balls.
He isn't a fan of his collar yet. He will sit and scratch at it, but we're just putting in on for a little bit and then increasing the time more and more and distracting him with playtime so he forgets it's there.
He's eating up a storm, about 1 cup 3x a day. He has a vet appointment this afternoon for the vet to get to know him/check on how he's acclimating/tell UA how amazing he is. It went super! Stirling weighs 19 pounds, behaved himself perfectly at the vet, and has an appointment May 20 for next round of shots.
The vet asked if Stirling's mom and dad had their hips and elbows xrayed, and I think you told me they did and were all clear, but I couldn't remember if they both had been xrayed.
Here are some of the MANY photos we have already taken. I'll send updates so you can see how he's growing!
We can't thank you enough.
TESSA OWNED BY MIKE BABINSKI A PARIS PUP
SOLO OWNED BY JOE IS A GREAT HUNTER AND FAMILY MEMBER
Hi Edna, Solo and I had a great hunting season. He is such a wonderful hunting partner,friend and companion. You asked for something special from Solo . Solo is such a pro that most retrieves are just routine. It really doesn't matter how many birds are down or where they fall. He always gets them. There was one really nice blind retrieve, however ,I will relate to you. My son-in-law Mike, Solo and I were hunting on the Arkansas River. Mike was by himself. He shot a Drake Mallard which sailed across the river up over a high cliff bank and disappeared off into the distance before finally falling. Solo and I did not see the bird fall. I sent Solo across the river and he climbed the high cliff bank and turned to face me.I told him "way back" he turned and disappeared into the distance. I told Mike I didn't think we would get the bird. Of course I was wrong after about five minutes Solo returned with the Drake. There's a nice photo of Mike and Solo with their prize. Solo and I are looking forward to the fishing season now and planning for next hunting season. We trust all is well with you. I'll send you a few other pictures.You made the comment to me that Solo needed a family. I think you'll enjoy some of these photos. All the best , Joe and Solo.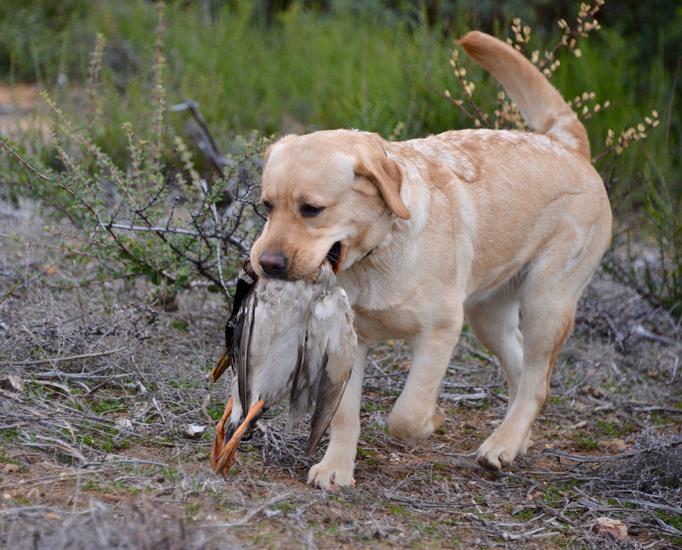 ZOE OWNED BY KEN AND SUZI BAKER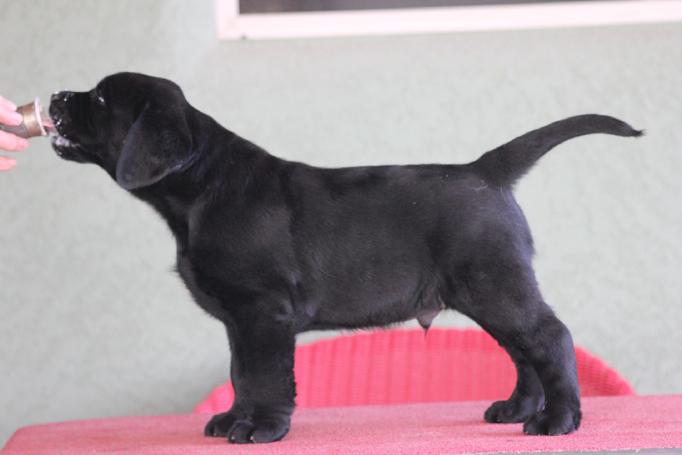 NOVA X HAWK PUP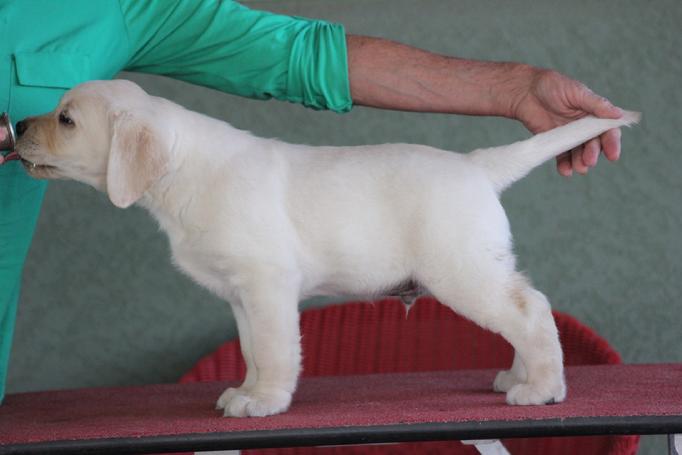 NOVA PUP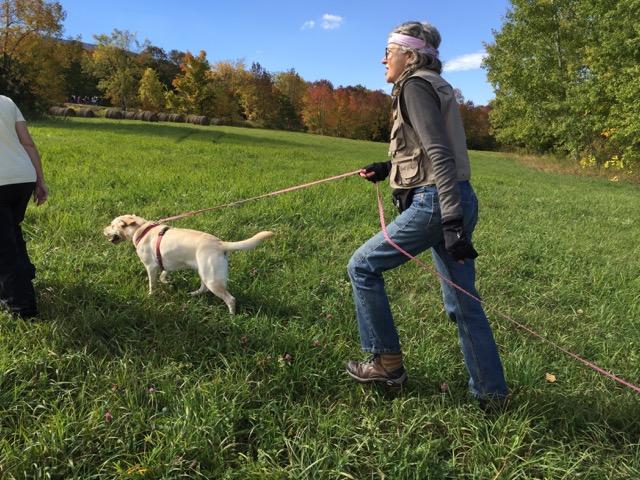 DEBBIE AND PIPER IN VT. WITH A TRACKING TITLE AND RALLY NOVICE TITLES. GOOSE PUP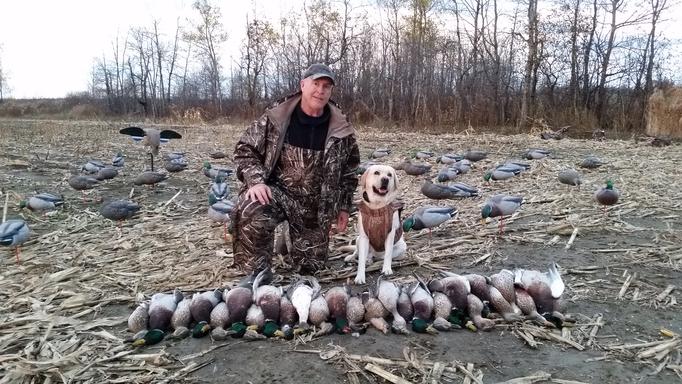 JOHN AND MASTER HUNTER QUINCY. AN HIDDEN SPRINGS PUP
To give a little more information on our latest Ontario duck hunting trip, I have to talk about some of the retrieves that Quincy had. There were 2 in particular that jump out. We had shot a bird that flew about 300 yards away landing in an alfalfa field. I didn't see it go down so I had to rely on guesses from another hunter. Quincy stopped perfectly on every whistle and took each cast exactly as given. He has a terrific nose and got in the area and came out with the bird. The group was very impressed. The other one was even more difficult as it was in high (2'to 3') grass around 275 yards away. He was awesome. There is nothing better than having a dog that will work hard to recover downed birds. We expect to pick up every bird that goes down whoever that might be. You have done a great job of breeding such a wonderful hunting partner. I can't thank you enough.
OWNED BY THE WOOTENS OF SC.
Just wanted to let you know that my niece (9) ran Bonnie Saturday in a Junior test and got a pass. My daughter (9) ran her on Sunday and got another pass. She is well on her way. We love her. ;)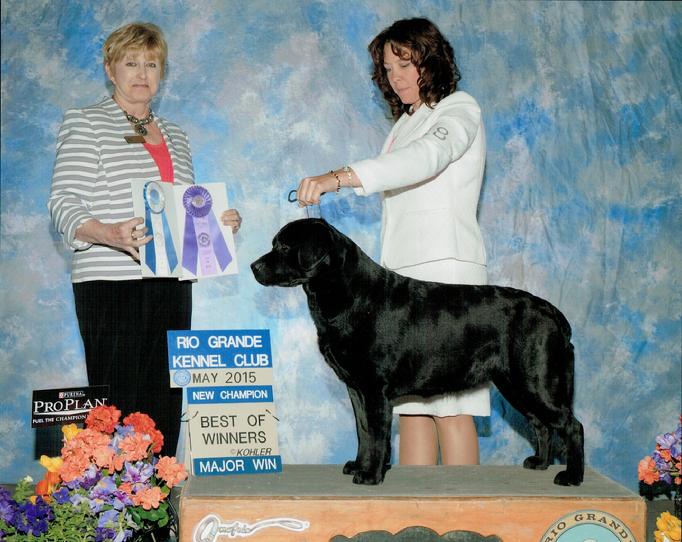 SARHA NEW CHAMPION -PARIS DAUGHTER OWNED BY STEV HERRON WY.
CONGRATULATIONS TO SARAH, A PARIS DAUGHTER EARNING HER AKC CHAMPIONSHIP. SHOWN BY STEPHANIE PERRINE, OWNED BY STEVE HERRON. FANTASTIC JOB.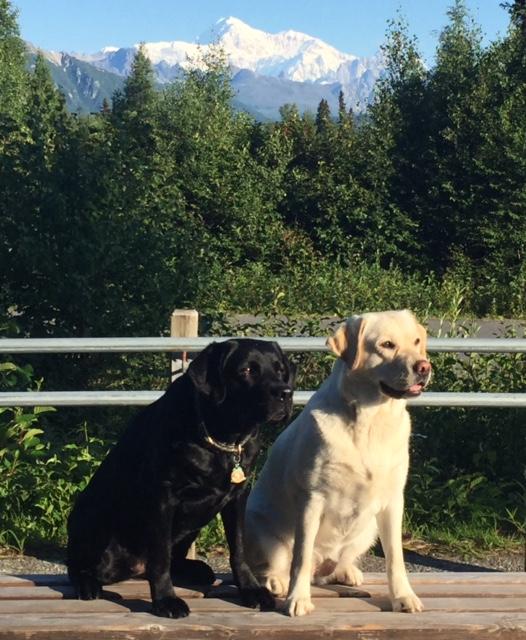 WILLOW AND BREEZE OWNEDBY CINDY IN ALASKA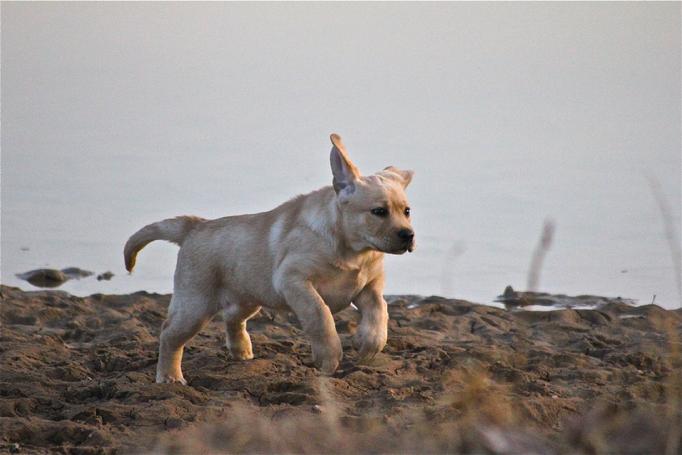 HAMMER IN ALASKA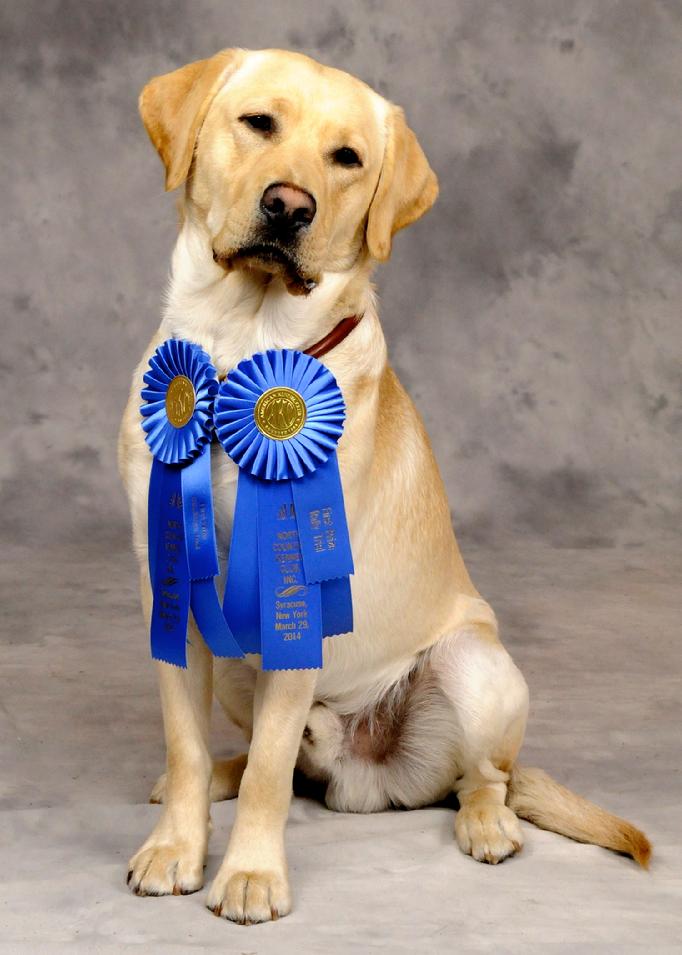 OWNED BY JENNIFER,VT.DAISY PUP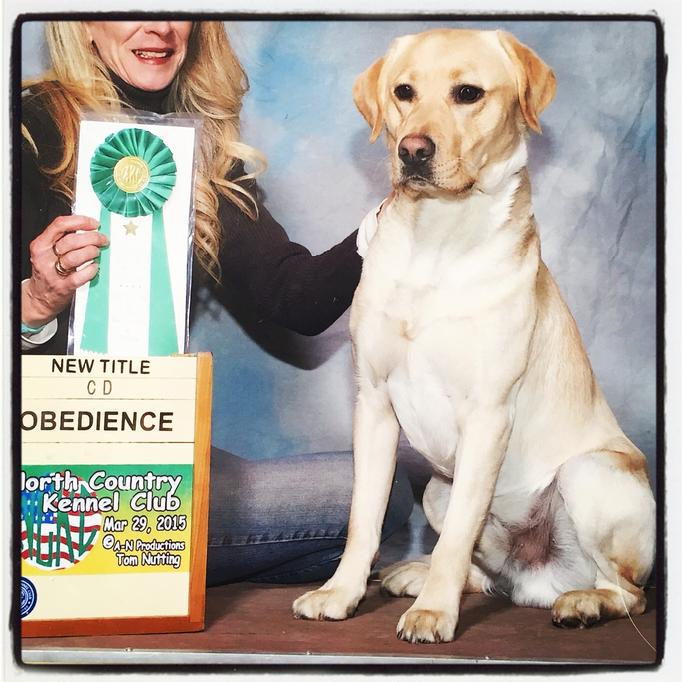 SILAS IS A PERFORMER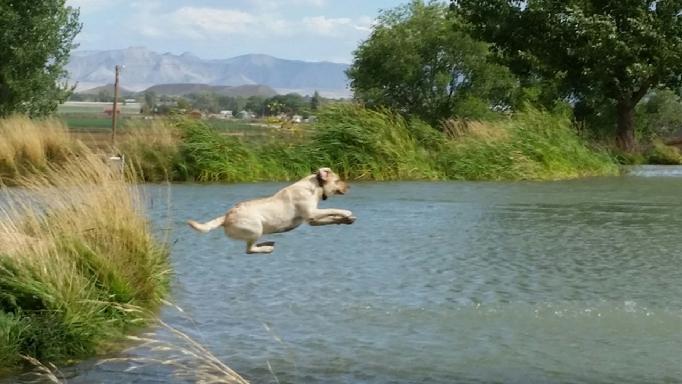 FLIRT IN CO.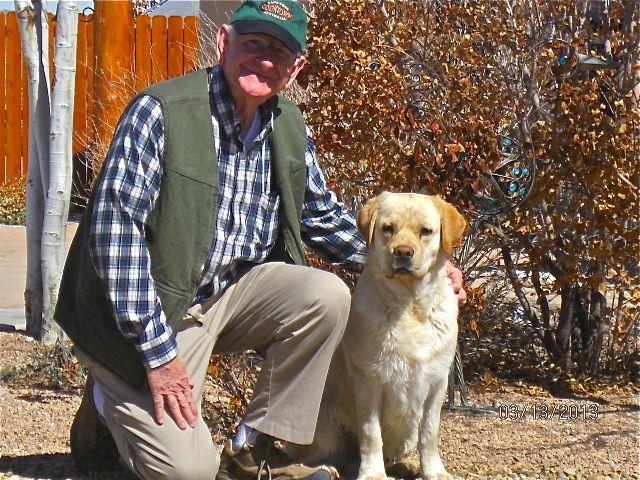 NEW HUNTING PARTNERS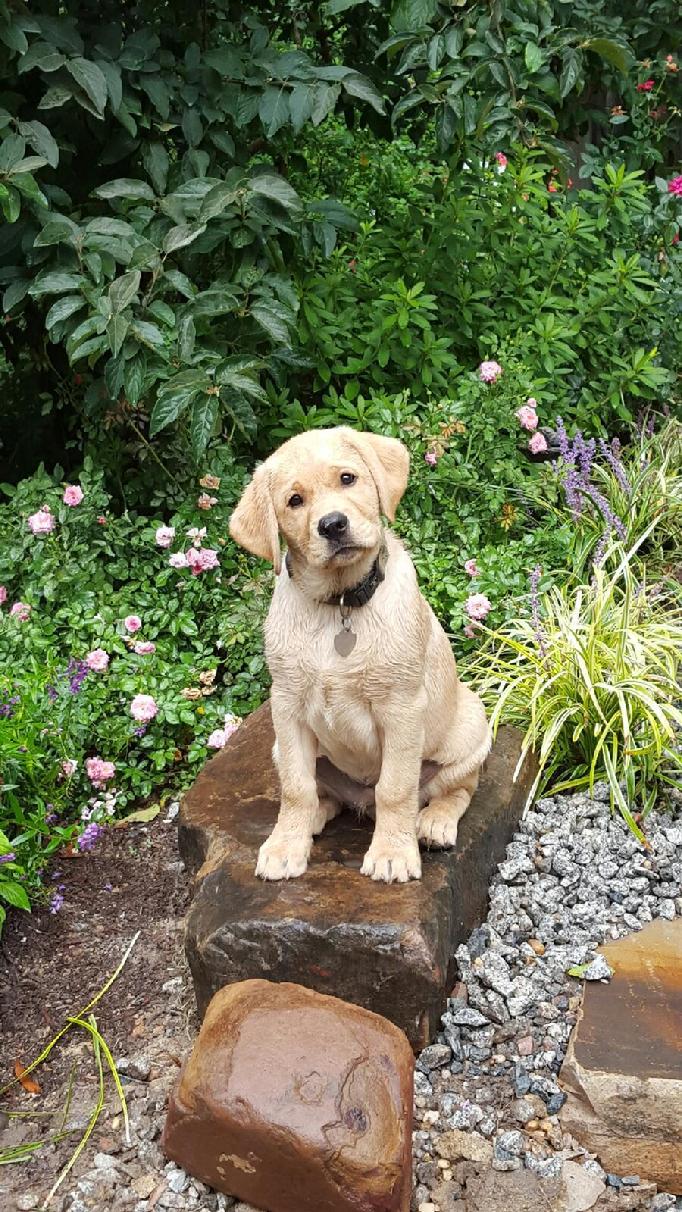 Goose grandson Luna x Decker owned by Price Dunaway
"WATER", TRAINING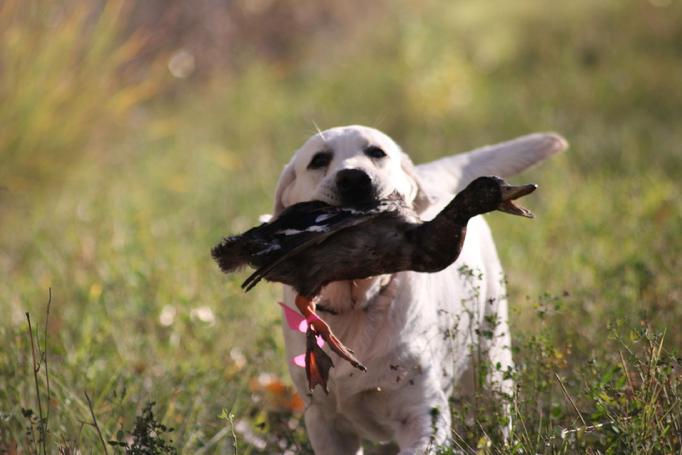 OUR DOGS RETRIEVE LIVE BIRDS
ACQUIRING THE SCENT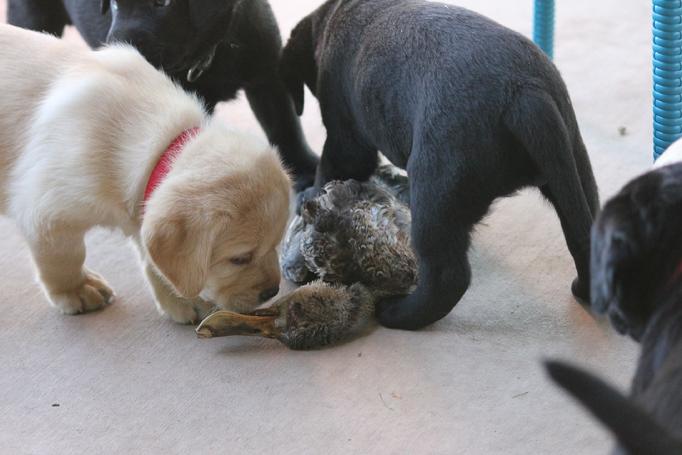 BIRD SCENT AT AN EARLY AGE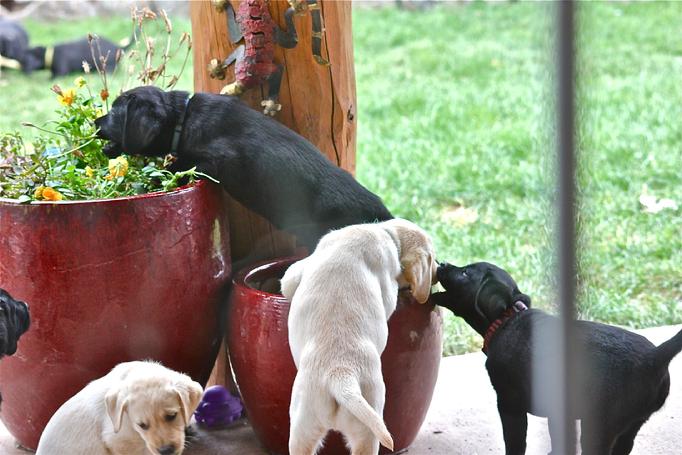 WHO ATE MY FLOWER?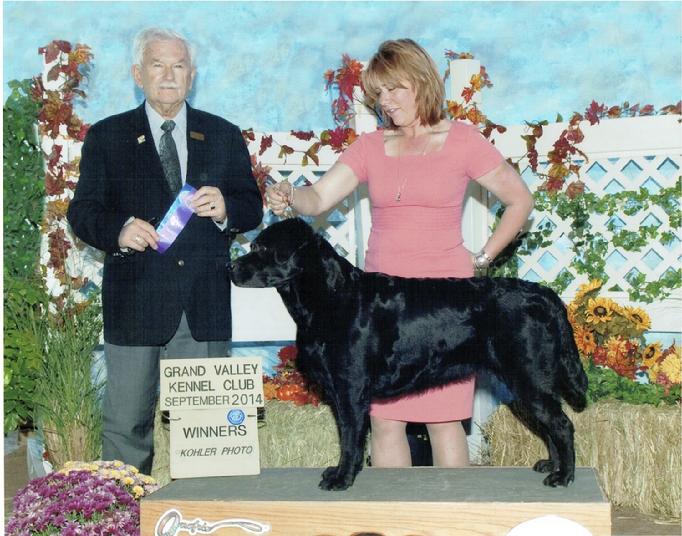 Goose daughter NOVA wins , shown by Tiffany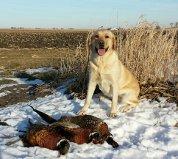 AJAY OWNED BY SCHRAGE FAMILY
Merry Christmas from Ajay and the Schrage's in Iowa. Ajay is out of Goose and Drew Hultgren's girl in MN. She is 18mos old and in her first full season after a short upland season last year. She is doing quite nicely and is an upland machine. She quarters beautifully and has successfully handled ducks geese, pheasants, quail, and partridge. She is now over 100 hunting live retrieves too. She will be spending the off-season in Wichita with a buddy of mine who is a professional trainer. Hopefully I will be sending you photos of hunt test ribbons this summer. Hope all is well and thank you for all the time you spent in the phone and in email sharing your knowledge and pointing me in the direction of this litter.
OUR GOOSE BOY YETI AT 15 WEEKS
GOOSE GIRL OWNED BY DREW HULTGREN IS AN AKC JUNIOR HUNTER
I just wanted to share the good news that our 15 mo. old pup, "Reagan" (from Goose x Rosie, 6/6/13) earned her JH title this weekend! I've attached a photo of the proud girl. She went 4 for 4 this summer, qualifying in all of her first four hunt test events! She is a rock star in the water!
Debbie's Goose pup
Subject: Piper at 11 mos. (Princess X Goose born 8/15/14)
Dear Lloyd, Jessica and Edna,
It is hard to believe that Piper will be 11 months old on Tuesday. She is just the most wonderful dog and all I can say to you all is THANK YOU!!!!
I have attached some recent photos -- to show you how beautiful she continues to be and how well developed she is muscularly. Everyone remarks that she has a beautiful head but also a great rear end! She weighs about 63 pounds and is all muscle from swimming and running. She also has a big "ruff" around her neck which I think she inherited from Goose. She seems to have his eyes, too, -- or at least that mesmerizing look in them! She can be kind of serious but also loves to play and has a great sense of humor.
Everywhere I go, I get numerous compliments about her. People think she is really cute and also incredibly calm and well behaved for a lab puppy. She also has tremendous focus and attention. She is really strong and the thing we "struggle" with most is pulling on the leash. She can heel beautifully but outside when left to her own devices, she really can pull.
On the training front, we are doing:
• Agility -- mostly to keep her agile and flexible and also to keep her brain engaged.
• Obedience -- she just passed her Canine Good Citizen test and we are planning to enter a trial in August to test the waters.
• Tracking -- we haven't been doing this as much as I had planned because we had a terrible tick season this spring and Piper did end up with

two ticks but luckily she has been tested negatively for Lyme disease, which didn't use to be a big deal in Vermont but is turning out to

be a big deal this year. But I plan to enter her in a test at the lab Nationals in gettysburg PA this fall.
• Field work -- She is an awesome retriever -- still working on a reliable return to me and she has a good mark. She loves the water but enters

like a lady as opposed to her best buddy Silas who enters like a champion! Unfortunately, we don't have any real training opportunities

near by so we are doing it on our own and since I really don't know what I am doing, it seems hit or mis.. If only I was closer to

Colorado or Texas, I would come train with you!
Piper has a very interesting learning style which is somewhat hard for me to explain -- but I will try. First of all, she is incredibly willing to try anything. And she is willing to keep trying and trying -- not like a border collie though -- she is much more thoughtful about her learning. She doesn't always get things on the first or even second try. but then somehow, just magically, it seems to sink in and then the learned behavior is just there. She does watch my older dog a lot and many of her learned behaviors come more from Ellie than me.
Again I thank you for breeding such nice dogs and allowing me the privilege and pleasure of having a Princess x Goose puppy! I know that she will do you proud.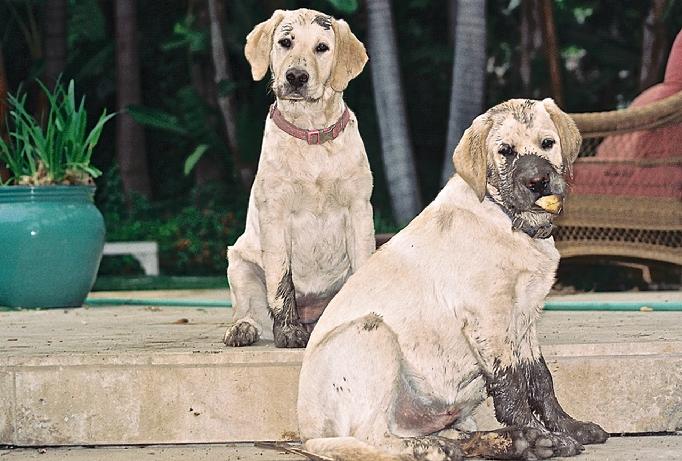 photo by and owned by Dianna Olivia-Day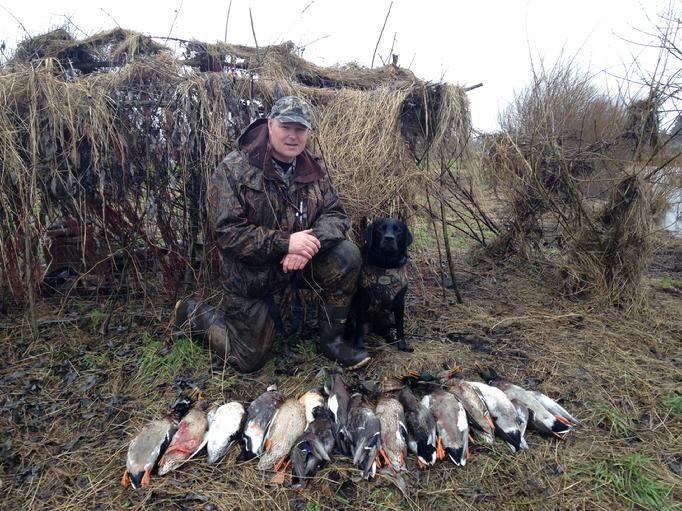 EMMIE GoosexCaper
Emmie is on her last duck hunt for the season. Today is the season closer on ducks. There will be another goose season in a few weeks and she will probably hunt that season too, depending on the weather. We are having a warm dry winter, which is unusual for Oregon.......usually mild but rainy. This has been Emmies 5th duck season since she started so early at 6 1/2 months. This year she retrieved over 100 birds. Kerry tried to keep count but.... She is such a great dog. She is the go to dog for all of Kerry's hunting partners. They are all amazed out how calm she is in the blind and how well she marks. She will sit and watch the sky all day and will retrieve all day.One day she had to retrieve 21 birds through a low water pond, where she had to wade in muck. It was not deep enough to swim. Kerry said by duck 18 she would run out to get it and then walk back after he had the bird, but she was not about to quit. She is a great dog and we would love to get another just like her. You and Valerie did a great job with this breeding.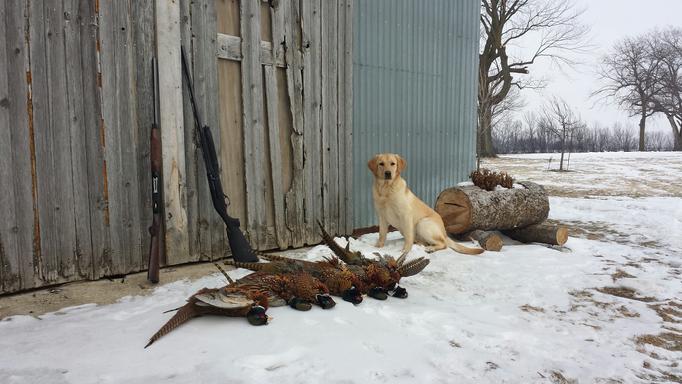 AJAY - GOOSE X ROSIE GIRL
Hey Guys, thought I'd send you both an update on Ajay. She is a wonderful and beautiful dog, perfect for our family and my hunting. She has taken well to training, she is on the soft side so it has taken some time but is going to be a great dog. Her retrieving drive is great and natural marking ability is top notch. I did not bring her waterfowl hunting a lot but she did make two nice retrieves during the OK teal season. She also retrieved 22 doves on that trip. The rest of the season was too cold for a young dog to be in the water. Since then we have been upland hunting a few times and she is picking up on that quite nicely and learning from a friend's MH dam "Casey." Today we killed 6 roosters and she had solo flushes and retrieves on two of them. She has retrieved 5 pheasants on the season. We have one more day to hunt and I can't wait. March is game farm month for us too with two days booked in southern Iowa.
At home she has taken very well to the kids, she is not allowed upstairs but usually finds her way to the nursery and sleeps under our four month old's crib. She is very protective of him. The two older girls play with her constantly and love being my bird girls on training days.
Hope you enjoy the photos.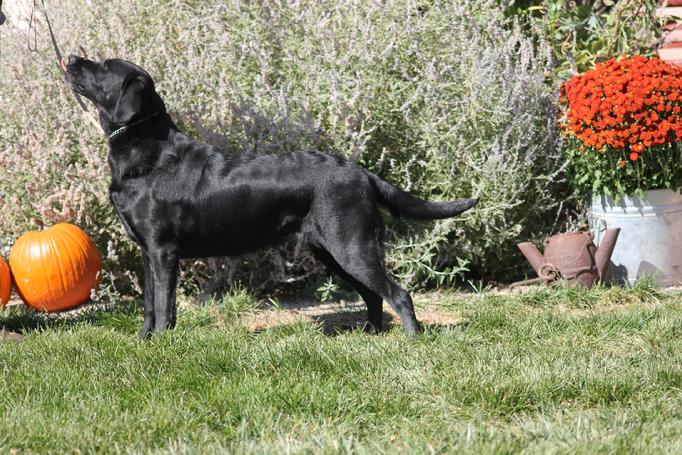 Goose daughter Luna earns her AKC Master Hunter Title and has 6 master passes
Goose pup Magnum, first AKC Senior hunter pass with Cindy Dirks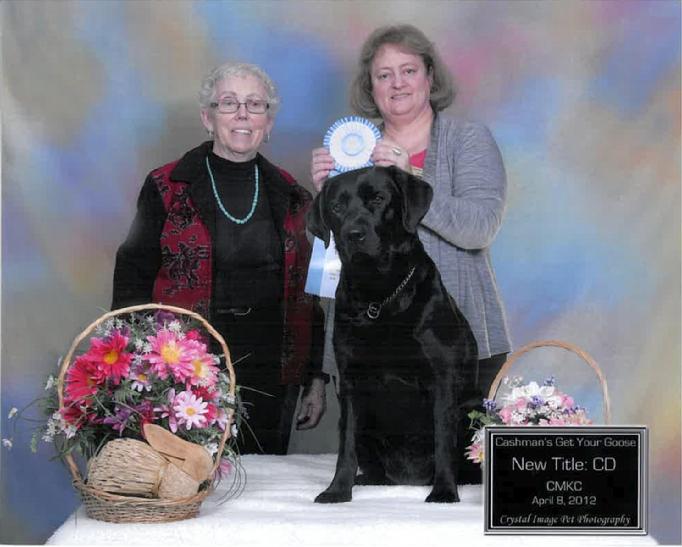 Goose pup, CASH earns her CD, and is an AKC MASTER hunter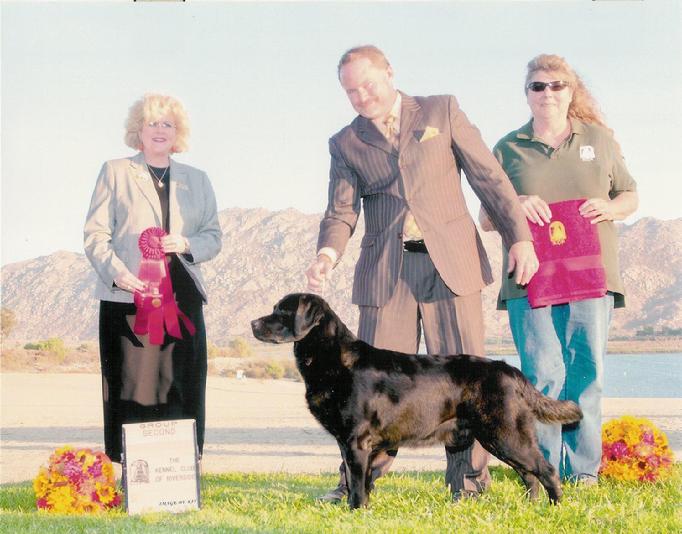 CALVIN, NOV '11 BOB and 2nd in SPORTING GROUP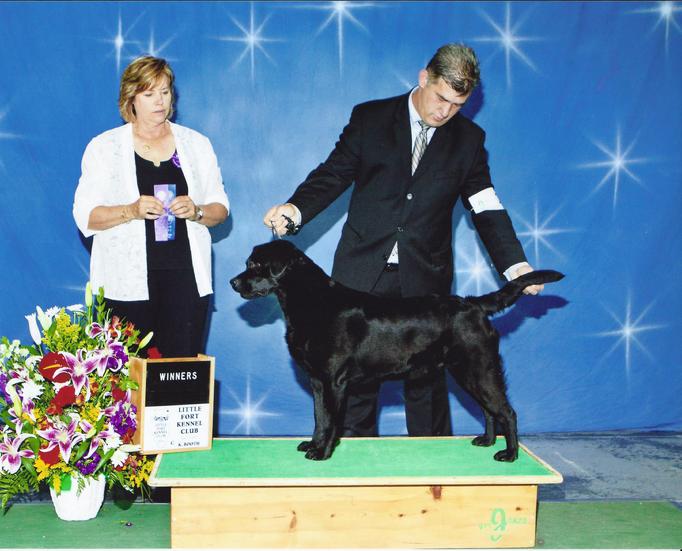 NOVA WIN '11
QUINCY JR HUNTER TITLE. GOOSE X SHADOW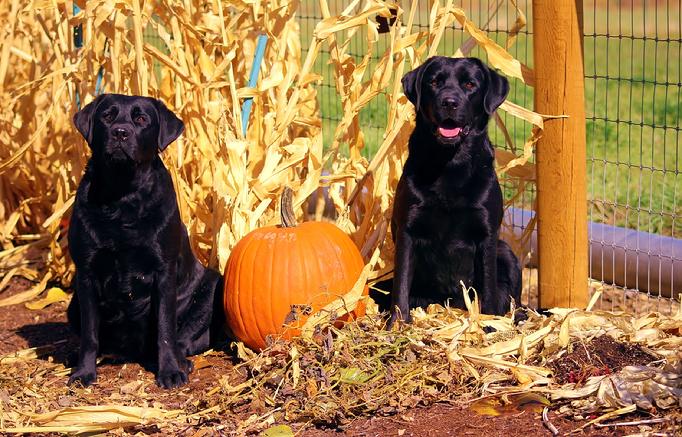 NOVA AND CASH. BOTH ARE AKC MASTER HUNTERS.
EMMIE LOVES TO HUNT AND IS A GREAT FAMILY MEMBER.
My name is Judy my husband Kerry and I live with Emmie (you notice I did not say owners of Emmie, she is her own girl). She is a Goose Caper pup and sister to Nova and Calvin. You do have some photos on your website of her from last
duck hunting
year. I just wanted to say I would get another Goose pup in a heart beat. Emmie is one of the best labs we have had, she is our 5th lab. We use to be into
field trials
, but got out of it a number of years ago. We use our labs for bird hunting and Emmie has been perfect.
I thought I would send you and Valerie an update on Emmie. She is still a wonderful little dog... ok not so little any more. We love her to pieces. She is such a sweet dog. She does like to eat though, and if you leave anything on the kitchen counter it will be gone. She is one of the cutest labs in the world. I know I am a little bias but others also tell me how cute she is. Our vet just loves her looks and comments on it each time she goes in She is a very healthy dog and very sturdy.
Kerry says she is the best dog he has had in the
hunting blind
. She is very calm and patient. She will sit looking at the sky all day waiting for birds. (Of course we had
field trial labs
before and they are not so patient). This is her second season hunting and doing well. She went to Umatilla refuge for the first time last week.
Umatilla
is on the
Columbia River
which is BIG water and is cold. It was snowing when they were there. They were able to take a few photos while they were there so I thought I would send you a couple so you could see her in action.
Thanks for breeding such a well rounded Labrador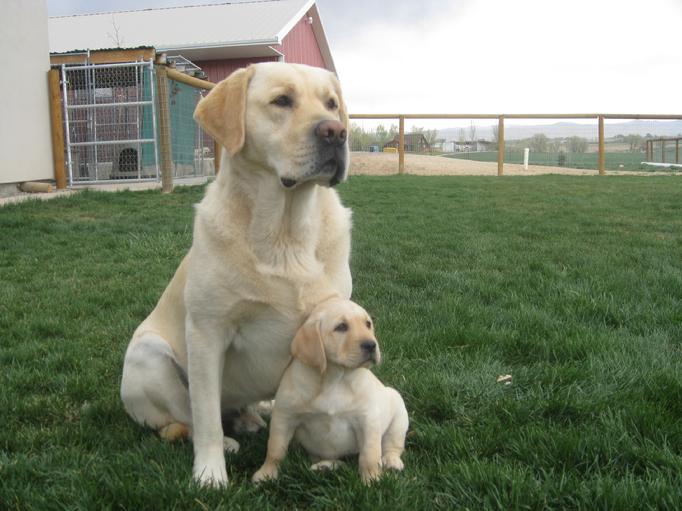 GOOSE AND SON
EMMIE AT 6 1/2 MO ON HER IST DUCK HUNT. RETRIEVES 9!!!
EDNA AND PAUL SCHENCK
efschenck@yahoo.com
Loma, CO.