EDNA HAS TRAINED FIVE OF THE 81 LABRADOR SHOW CHAMPION/MASTER HUNTERS IN BREED HISTORY! GOOSE , CAPER, DECKER ,COVEY, AND REP.
MASTER HUNTERS OF HIDDEN SPRINGS
EDNA'S THOUGHTS ON TRAINING THE SHOW BRED LABRADOR TO THE AKC MASTER HUNTER TITLE. AND WHAT IS NEEDED TO OBTAIN THE CHAMPION/MASTER HUNTER DISTINCTION.


I'm just so excited and thrilled with the show bred labs I've been able to bring up to master! Here are some statements and thoughts.

A person needs a bold confident dog to train for the master level. They can be very sweet but MUST have a lot of drive.
Their marking talent, trainability and intelligence needs to be natural and at the top level. A person can make a master dog without much natural talent but they won't be too successful in the tests.

I like a dog with a bit more length of loin and a bit more leg. These traits allow for much easier going in rough terrain and tules. A longer strong muzzle makes picking up birds MUCH easier. I think the dog breaths easier when his mouth is full of bird.
Drive doesn't mean fast...it means the dog has determination to get the bird and wastes no time in doing so. Heís focused and WANTS that bird!
The show bred dog has more bone and the wonderful thick Labrador skin which makes them much heavier than the field bred dog. The show dog is squarer with a shorter leg and will just run a bit slower than a field dog would.
This doesn't mean it should be boring to watch a show dog work. But sad to say...this is the case many times.
Because many people run their show bred labs too fat and not in good condition they tire easily which makes them look dis-interested with no talent. It's not necessarily the case but to a HT judge it's lacking STYLE and not impressive.

This is one of the pitfalls for running show labs. The judges already have formed and opinion from earlier experiences.
I LOVE it when the judges say "itís nice to see a hard charging show lab do good work"!
Because the HT game is dominated by field labs the tests can get pretty meaty with long distances on marks and blinds. The field lab is bred for this type of scenario...the show lab tends to like closer more exciting test scenarios. AKC seems to keep pushing the envelope on distances.

There are many different judges and they all have their own opinion on what a master dog should be expected to do so if you know the types of tests your dog is comfortable with or what you tend to train on...you will learn what judges are good for your dog.
Sometimes you and your dog have a bad day......the best thing to remember is, learn from every training day and test. Watch the other handlers and dogs. See where the holes are in the test. Anticipate your dogís movement. Have your whistle in your mouth! Look at the BIG picture as your dog is running the marks; is he in the area of the fall? Don't belong to the HOPI tribe....I hope...I hope...I hope he will...darn he didn't! AND that there's always another test.
Master dogs enter that level without much experience but with each test the dog gets lots of good info they store away.
Pretty soon you'll have a dog that can run just about any test. Now you have a fun toy to play with!

Having a nice group of people to train with is so important. Your master dog needs lots of shot flyers to keep things exciting and fun.
I don't have a group to train with so this is very challenging for me. I use Zinger Winger launchers and get a lot of exercise!
I have 2 friends that join me once a week to train. I do have a nice technical training pond on our property. It's a smaller version with channels, dike and islands to train on.
The entry cost of tests, motel and fuel add up real fast but if the HT game is your passion it's where one spends their money.
TIME is probably the biggest factor in training a master dog. You got to make the time!

It would be a lot easier if there were more proven pedigrees to go to if one wants to breed for conformation and drive....But you just have to do your homework. Every cross will produce something different so you need to know what crosses well with your type of lab. Probably in many litters there is a potential master dog but it takes a lot of time to learn this.
Some pedigrees have tons of intelligence but no drive. Others are almost over the top on drive but have low trainability.

Checking the HT records tells a lot about the dog. Some dogs take forever...like years to earn their MH title. Some only run in their familiar training areas so I do check the dogís event history on Entry Express. When I know the style and desire of a particular dog to retrieve...I will research more and consider him as a possible stud prospect for my girls.
Some dogs that have their CH/SH titles are very nice. It just takes time and money and training to jump to master which a lot of people just can't do.

Show labs don't want you to be tough. They want you to teach them. This is not to say to be soft or baby them. They WILL let you do that but now you have a pouty slug of a dog with poor attitude.
I have found that when training with the E collar you better not give as many corrections...no nagging. You can use a higher # but not too often. Many show labs know how to act like you're killing them on a very low # but they REALLY need a high #. If you don't get this worked out you will produce a dog with a very poor attitude. This is getting too much into training. I could write a book on that!
They're very smart but a bit complicated. The show lab is the King of schmooziness! They don't take a lot of time to train in each session. They can also hold a grudge for awhile....especially the girls. The show girls also seem to be affected more by their hormones for a longer period of time both before and after a heat cycle.

Show labs DO NOT want to repeat a drill they've worked on... again and again. I've also had several show dogs get slower on the burn to the back pile rather than speed up. They sure let you know when they're not happy and totally bored!
Most show labs need different training than a field dog. You can do the same programs but you have to adjust the way you present some things to them. You better show and teach before you think you can force them into anything. Their attitude will plummet if you've been training too hard or it's boring.
On top of all the traits for retrieving a CH/MH needs you also have to breed for type or conformation that is in the breed standards. This can be a bit frustrating.
I use a professional handler to show my dogs. Thatís what he's there for. He's a pro in the ring like I am in the hunt tests. I will more likely get your dog to pass an upper level test than you are if youíre inexperienced. Not because I know the judges but because I know how to run the upper level dogs. The pro show handlers are very comfortable in the ring and have a very good presence. They can show the dog to its best.

I bred, trained and titled our boy CH-MH #45 Hidden Springs Blue Goose to master. Rusty and Jen Howard got his CH very quickly.
I have trained CH-MH #47 Hollyhills Password to Bidwell from her JH to MH title. Rusty and Jen also titles Caper very quickly. Caper is only the 9th female to earn her CH/MH title in the breed history...!!!

I have put MH titles on 11 show bred dogs. When they're good they are so fun to watch in the field. It sure is nice to see a pretty Labrador bring in all the birds!


break time at a pheasant hunt
BY TAKING IN ONLY 4 OR 5 OUTSIDE DOGS FOR TRAINING AT ONE TIME, IT ALLOWS EACH DOG TO GET MORE QUALITY AND PERSONAL TIME.
IN JULY 2007 WE MOVED TO LOMA COLORADO, OUR HOME IS A 10 ACRE RANCH AND INCLUDES A TECHNICAL POND AND A NEW INDOOR/OUTDOOR KENNEL. I CAN NOW TRAIN BASICS AND MORE ADVANCED WORK HERE.
I ENJOY TRAINING DOGS FOR THE AKC HUNT TESTS FROM JUNIOR THROUGH MASTER. I ALSO HAVE MANY HAPPY HUNTERS AS CLIENTS AFTER TRAINING THEIR DOGS FOR UPLAND AND WATERFOWL. I ALSO DO TUNE UPS BEFORE EACH HUNTING SEASON.
OUR FACILITY IS FULLY FENCED AND IS SAFE AND CLEAN. WE DO SOME LIMITED BOARDING FOR OUTSIDE DOGS.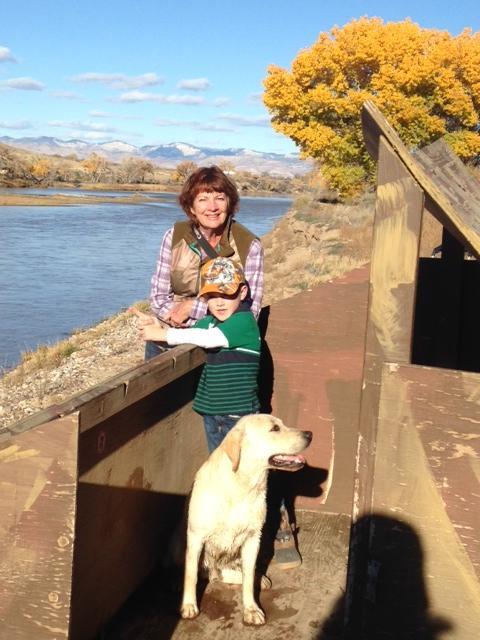 AN INTRO TO THE DUCK BLIND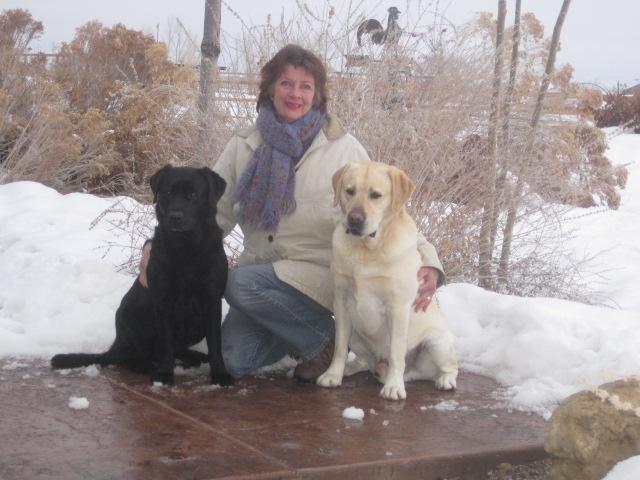 Edna with Caper and Goose, Champion Master Hunters
Caper the 47th AKC Champion / Master hunter in Labrador history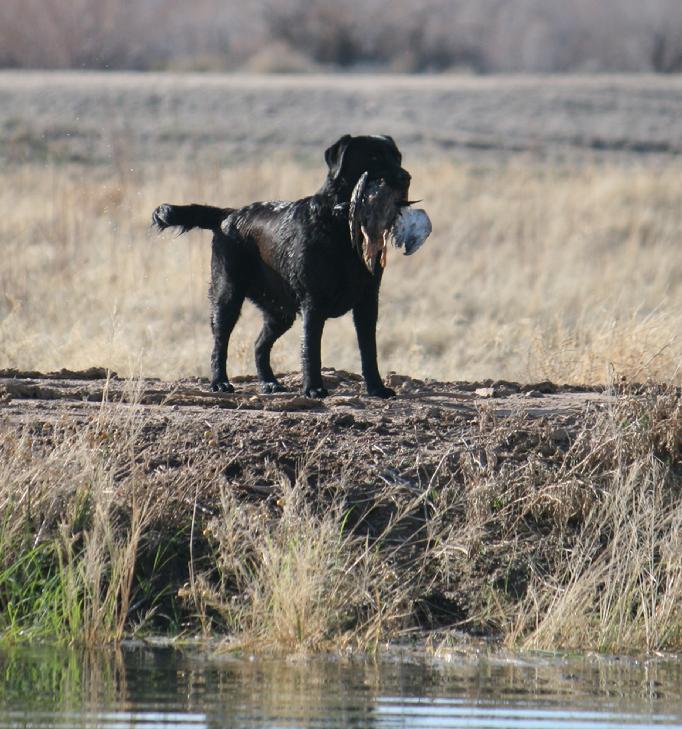 Caper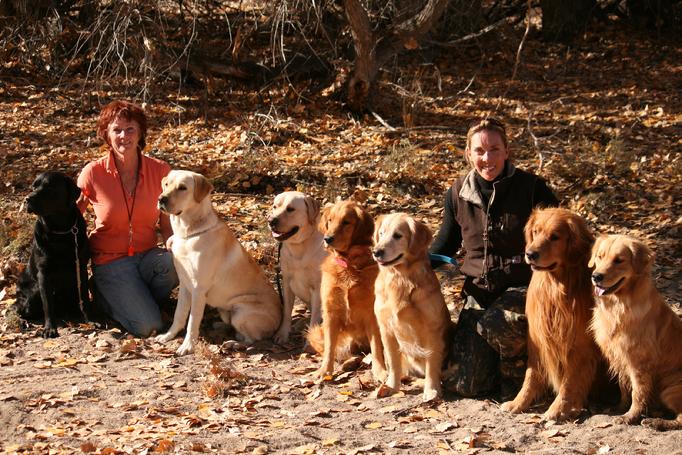 Edna and Lolita with New Mexico winners. New titles: Rio Senior Hunter, Maverick Master Hunter. 10-09.
GLEN TURNER WITH HIS MASTER DOG MAVERICK, TRAINED BY EDNA.
training pond
Edna with Goose and Goose
upland field
Caper 4 master passes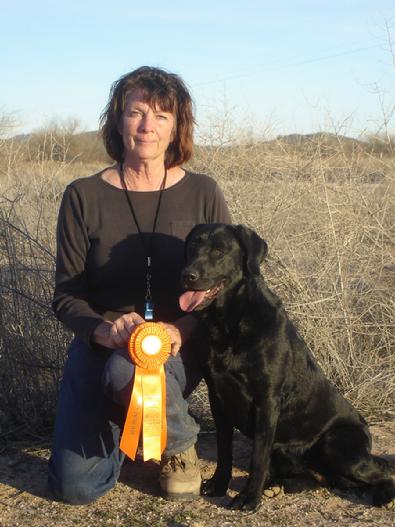 CASSI EARNS MASTER HUNTER TITLE AT COPPER STATE 2-08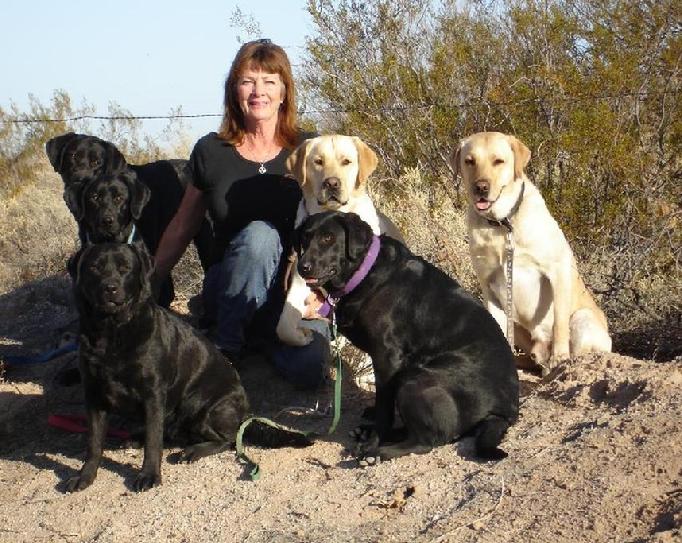 Copper State, AZ winners
EDNA TRAINS LABRADOR RETRIEVERS AND EXCELS IN BRINGING OUT THEIR HUNTING TALENTS BY GIVING THEM ALL THE TIME AND ATTENTION EACH INDIVIDUAL REQUIRES. THIS IS PROVEN BY THE MANY AKC AWARDS HER DOGS HAVE EARNED.
EDNA AND PAUL SCHENCK
efschenck@yahoo.com
Loma, CO.