HIDDENSPRING VERY KERRY BONNI MH:
DAM OF

2

AKC SHOW CHAMPIONS WITH MASTER HUNTER TITLES:
GRAND CH HIDDEN SPRINGS BLUE GOOSE MH RN,
CH TOPWATER HIDDEN SPRINGS YULETIDE MH RN, # 56 IN BREED HISTORY;
A
ND 1 SHOW CHAMPION WITH A SENIOR HUNTER TITLE,
UH HR CH CAWARRA'S GENTLE BEN WCX SH!
BONNI IS GONE, ONE OF THE BEST PRODUCING GIRLS FOR THE DUAL PURPOSE LABRADOR EVER !
GRAND CHAMPION HIDDEN SPRINGS BLUE GOOSE MASTER HUNTER #45 IN BREED HISTORY
CHAMPION AND MASTER HUNTER TOPWATER HIDDEN SPRINGS YULETIDE# 56 IN BREED HISTORY
BONNI HAS PASSED 15 MASTER LEVEL HUNT TESTS, ONLY 5 ARE NEEDED TO OBTAIN AN AKC MASTER HUNTER TITLE. SHE HAS PROVEN HER
QUALITY BY PASSING ON HER ENGLISH LABRADOR GOOD LOOKS AND HUNTING ABILITY TO HER OFFSPRING. SHE HAS QUALIFIED FOR THE MASTER NATIONALS.
OUR SPECIAL GIRL, BONNI AGE 14
AGE 9
AGE 9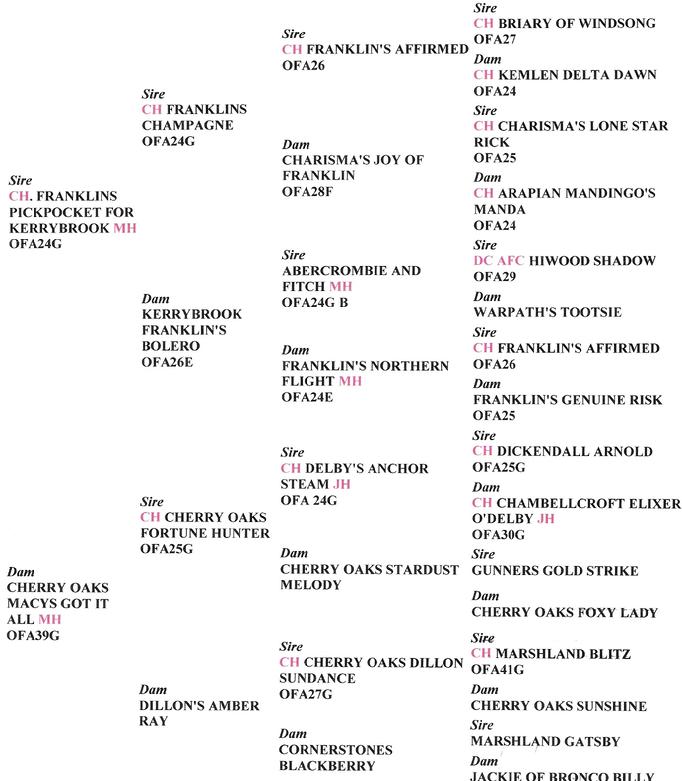 Bonni's Pedigree
EDNA AND PAUL SCHENCK
efschenck@yahoo.com
Loma, CO.